14 July 2014
Honorary President for the Triumph Sports Six Club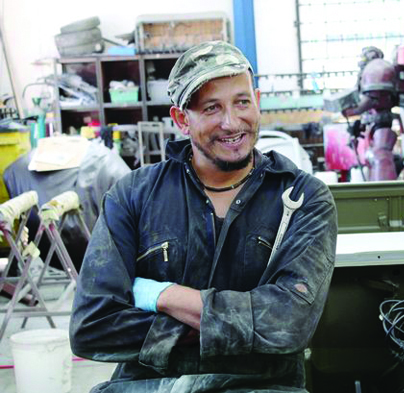 We are delighted to confirm that the noted classic car journalist and restoration expert Fuzz Townshend has accepted the role of Honorary President for the TSSC.


This is fabulous news for everyone connected with our Club and represents a significant mile stone on our journey to make the TSSC the best club it can be for its Triumph enthusiast membership.
CoM, decided to approach Fuzz about the role as it was felt he embodied and epitomised all the best virtues of what being a member of the TSSC is all about. Fuzz is passionate in his belief of fundamentally doing the right thing for any classic car. That extends from activities centred around the day to day general up keep through to full nut and bolt restorations. He has a keen sense of respect for what the Triumph marque represents in terms of its history and the personal fulfilment enthusiasts get from both their car and club membership. To that end Fuzz whole heartedly supports the TSSC's mantra that everyone should Do More with their Triumph!
Upon accepting the role Fuzz commented :-
"It's an honour to have been invited to take the role of Honorary President of the TSSC.
Having owned a couple of Triumphs in my time – a Herald and a Vitesse, I totally get the appeal of the marque and was indeed a TSSC member for a time.
In my daily life I have the pleasure of working on many different Triumph products and indeed at this moment, my Westgate Classics business has a 1951 Renown undergoing long term, extensive restoration and a Triumph 2000 Estate, the latter being more or less completed.
Triumphs have played a part throughout my formative years. In the mid-1970s my uncle owned a 1965 2000, in Old English White, with a red interior while his wife drove a 1969 Vitesse. The rich tones of the Triumph 6 cylinder engine has stayed with me from those days to these. My brother meanwhile managed to land his '67 Herald in the branches of a tree after leaving a motorway embankment. I'm not quite sure how exactly.
This coming week I shall be fettling the Carole Nash Insurance Spitfire, which is the star prize of their Spark Plug Challenge competition. Later in the year I shall be tasked with taking it on Club Triumph's Round Britain Reliability Run, so I'm going to make sure that it's well run-in beforehand.
I'm very sorry I can't make this year's TriumFest UK, but you're sure to find me at other TSSC events, so do please come and say hi."
Almost immediately after making the announcement that Fuzz was being approached for the role of Honorary President, the club received at HQ in Lubenham many messages of support from social media, e-mail and telephone. Fuzz was very clear that it needed to be the membership that supported his appointment to the role rather than him being imposed on the membership by CoM. The volume of positive feedback received from the many different sources has been delightful and very welcome. It overwhelmingly confirmed the membership's approval of Fuzz's appointment.
Fuzz has immediately joined with CoM in turning his attention to supporting our forthcoming International event 'TriumFest UK 2014' at Donnington scheduled for the weekend 25th, 26th and 27th July. Unfortunately, Fuzz very much regrets that he can't make the event this year due to a long standing diary commitment elsewhere. However, he very much wanted to join with CoM in issuing a rallying call not only to the TSSC membership but also to the wider Triumph community for them to come along to Donington and support TriumFest UK 2014!
"It is my pleasure to add my support to the TSSC and its forthcoming national event, TriumFest UK 2014! I call on all TSSC members, their family, friends and indeed all Triumph enthusiasts nationwide to come along and support what will be a terrific celebration of not only what is best about Triumph Cars but also it will be a terrific representation of just what Club membership is all about!"
On behalf of the family that is the TSSC, I would like to welcome Fuzz. We all look forward to working with him over the coming months and years with regards to promotion of its values for the betterment of the TSSC itself and its members.
Fuzz is a terrific ambassador for what the TSSC represents now and where it wants to go in the future. He is best placed to both help promote our message to Triumph enthusiasts on a national scale so that not only will our beloved cars benefit but so will each and every member of the TSSC.

Welcome Fuzz!