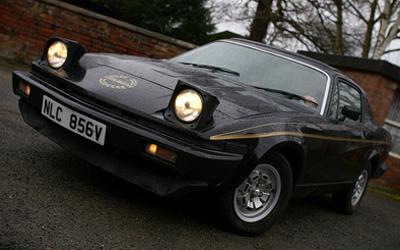 Overview
After the TR6 this was a disappointment for purists, having gained a roof but lost two cylinders, 500cc and independent rear suspension. It really wasn't a true TR, until the convertible version arrived in 1979 – those initials simply meant Triumph Roadster. But for all the criticism over these points and the still controversial 'wedge' styling, it sold faster than the TR6 had ever done. It's a much easier car to live with, driving more like a two-seater saloon than a sports car. It's also by far the cheapest way to join the ranks of Triumph TR ownership.
Register Secretary
Paul Lewis - Click to email


Born in the only year that England won the World Cup, my years growing up we're dominated by British cars. As I approached my influential years prior to leaving school the car that...

» more ...
Production
Span: 1975-1981
Quantity: 112,375
Price
Cost when new: £3000
Market Value Guide
Performance
Acceleration: 9.1secs
Top speed: 109mph
Power: 105bhp
Torque: 119lb/ft
MPG: 33mpg
Engine
Configuration: in-line four
Aspiration: normal
Fuel: petrol
Fuel delivery: carburettor
Chassis
Front suspension: Independent, coil springs
Rear suspension: Beam axle, coil springs
Drivetrain: front-engine RWD
Steering: rack and pinion
Bodyframe: metal monocoque
Transmission: Four-speed manual/Five-speed manual/Three-speed auto
Dimensions
Length: 4067mm
Wheelbase: 2160mm
Width: 1681mm
Height: 1267mm
Kerb weight: 1000kgs