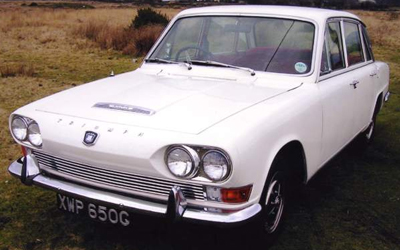 Overview
Think Triumph 2000 with TR5 engine, which made this Britain's first family car to be fitted with fuel injection. After little over a year it got the MkII bodyshell, but neither had the best reputation for reliability, mostly fuel injection problems, though you can expect those to have been sorted out by now. This led Triumph back to using carburettors again in 1974 for the 2500TC, which had 99bhp, lower spec, and was cheaper than the 2.5PI. Then in 1975 the 2500S fully replaced the PI with a 106bhp carburettor engine, stiffer suspension and Stag alloys. This is the one to have.
Register Secretary
Carl Swanson - Click to email


This Profile has not yet been completed. It is the responsibility of the Area Organiser (AO), Register Secretary (Reg Sec), Staff or COM Member to do this. It is not the re...

» more ...
Production
Span: 1968-1977
Quantity: 47,455
Price
Cost when new: £1595
Market Value Guide
Performance
Acceleration: 11.5secs
Top speed: 106mph
Power: 132bhp
Torque: 153lb/ft
MPG: 22mpg
Engine
Configuration: in-line six
Aspiration: normal
Fuel: petrol
Fuel delivery: carburettor
Chassis
Front suspension: Independent, coil springs
Rear suspension: Independent, coil springs
Drivetrain: front-engine RWD
Steering: rack and pinion
Bodyframe: metal monocoque
Transmission: Four-speed manual with overdrive
Dimensions
Length: 4629mm
Wheelbase: 2692mm
Width: 1651mm
Height: 1422mm
Kerb weight: 1252kgs