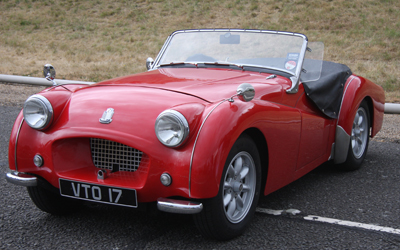 Overview
Did Triumph know what it was starting? The TR2 practically defined the new wave of British sports cars that came along in the 1950s: quick, basic, admirably strong, and under the bonnet, a well-proven engine from a saloon car with an extra carburettor bolted on. Instantly distinguished from later cars by its deeply recessed grille, the TR2 will easily pass 100mph, won rallies in its day, and is still popular for classic rallying. A strong seller, it could be worth hanging out for one built after October 1954. These got shorter doors so you could at last get out next to kerbs.
Register Secretary
Simon Morgan - Click to email

My first car was a 1967 Triumph Spitfire Mk3 back in 1977 which I fell in love with when I saw it on a garage forecourt. I was 17, had just passed my test and withdrew all £350 o...

» more ...
Production
Span: 1953-1955
Quantity: 8628
Price
Cost when new: £787
Market Value Guide
Performance
Acceleration: 11.9secs
Top speed: 103mph
Power: 90bhp
Torque: 117lb/ft
MPG: 31mpg
Engine
Configuration: in-line four
Aspiration: normal
Fuel: petrol
Fuel delivery: carburettor
Chassis
Front suspension: Independent, coil springs
Rear suspension: Beam axle, semi-elliptic leaf spring
Drivetrain: front-engine RWD
Steering: cam and gear
Bodyframe: metal monocoque
Transmission: Four-speed with overdrive
Dimensions
Length: 3835mm
Wheelbase: 2235mm
Width: 1410mm
Height: 1270mm
Kerb weight: 838kgs