Meetings:-
At: Cock & Pheasant

Bollington Cross
England
SK10 5EJ
We 'normally' meet at the Cock and Pheasant in Bollington on the first Thursday of the month. I aim to be there around 8:30 (runs out excepted), but one or two folk often arrive earlier.

Meetings are mostly informal and the pub usually has 3 or 4 real ales on handpumps. It's recently changed hands and been 'refurbished' and is a restaurant but still seems to sell beer and have tables inside.

The regulars can provide a great deal of technical knowledge (and in some cases have a large cast iron collection), mostly about the small chassis cars.

We have 'runs out' in June, July and August, usually starting a little earlier at the C&P, and travelling via all sorts of roads to another establishment. Check the Courier (or this web site) for details of the runs out.

Most people will approach from the A523 (the 'Silk Road') which means you don't get the nice view of the pub (above) you would get if you came from Bollington village.If you come along Bollington Road from the A523, you'll get the view in the first photo in the gallery below. If you come along Flash Lane (very narrow), it's difficult to spot the car park entrance on your right, but just turn right at the junction a few yards later and then right again into the car park.

The 'old' Cheshire website is now defunct.

The events list is a 'work in progress'. Many events don't update their details until relatively late in the year.

cheshire@tssc.org.uk
Area Organisers
(r) Henry Jones - Click to email
I've owned Heap the Vitesse since 1977, been in the TSSC since 1985, and Area Organiser for Cheshire since 1997. Mixed in there have been a Herald 12/50 and a TR7. More recently Ha... » more ...
Gallery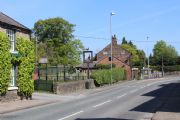 The Cock & Pheasant as you approach from the A523 along Bollington Road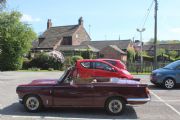 The view from the car park (on a nice sunny day).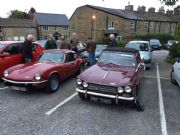 This was taken at our May meeting. The car park gets full, we park where we can.
Downloads