Hi, Martin Hughes AO for Somerset, Area of the 2016.
I have been a member of the TSSC since 2009; I have two and a half Triumphs, more if the wife would let me. A Spitfire4 (mk1) a mk2 Spitfire and a 1360 Herald. The half is because I am restoring the mk1; she is a complete restoration and will take a long time to complete. I purchased our first Triumph when we purchased our current home, purchased their bungalow and their Herald.

I am one of two Area Organisers for the Somerset area (TSSC AREA OF THE YEAR 2015) I joined CoM in April 2016 as I wanted to give something back to the club for all the enjoyment that it has given me.

Gallery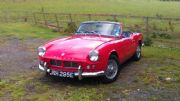 MK2 Spitfire